Stone tools have been found in and around Singapore since the late 19th century. Much about them remains a mystery.
By Foo Shu Tieng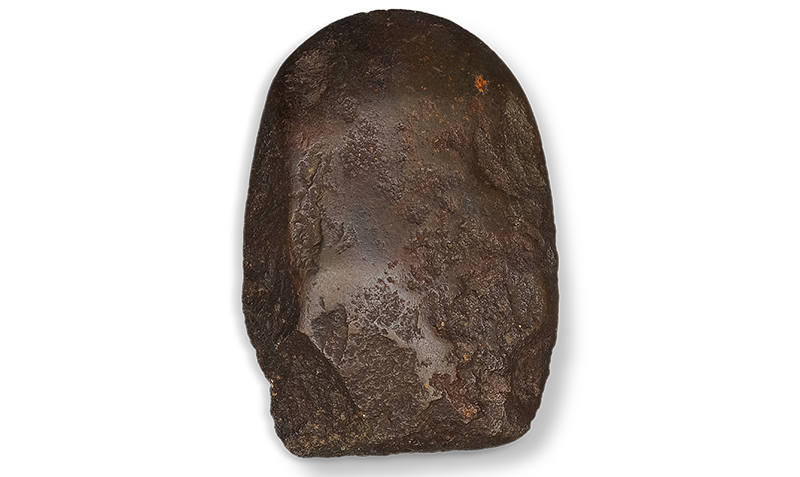 The round axe discovered at Tanjong Karang (now Tuas) in Singapore (Accession no. A1277). Collection of the National Museum of Singapore, National Heritage Board.
Much of the archaeological research on Singapore since the 1980s – whether land-based or maritime – has focused on historic periods, particularly the era from the 14th to the 20th centuries.1 However, scholars have long suspected that the islands that make up Singapore might have been occupied several thousand years ago and that stone tools may provide the evidence for that period.2
Stone tools are stones that often bear the characteristics of being deliberately shaped and/or use marks.3 Stone tools were initially attributed to male-hunting activities, but studies have since shown that hunting methods were gender-neutral.4
In Malaya, stone tools were found and reported during the colonial period, and were subsequently collected and deposited in museums.5 These tools were studied and described, and theories were proposed as to which type of stone tools came first. Many of these early studies, which relied on relative dating, had to be reassessed after the advent of radiometric dating.6 Malaya only began to use radiometric dating techniques for archaeological sites in 1960.7
Stone tools are usually not directly dated as this would only give an indication of when the rock was formed but not necessarily when the rock was manipulated and shaped. However, organic materials such as wood or shell might be found in the same excavation pit and dated based on their relative position to the stones. This is why finding artefacts in a non-disturbed context is vital.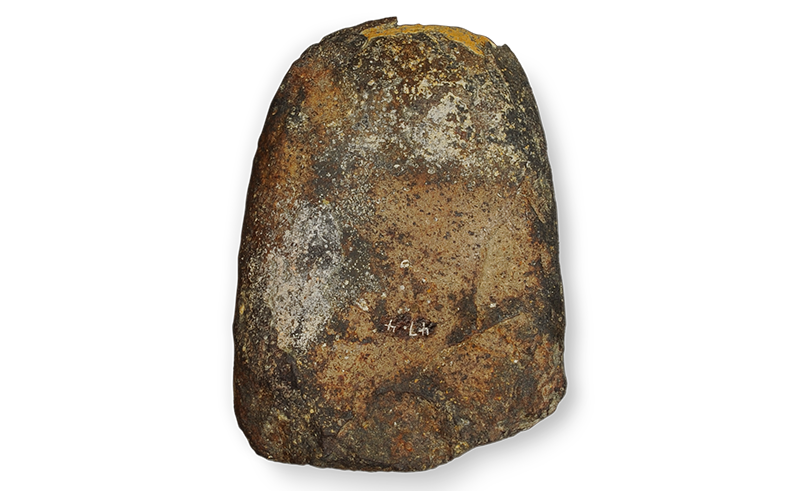 A polished stone axe from Tanjong Tajam on Pulau Ubin, Singapore (Accession no. A1285). Collection of the National Museum of Singapore, National Heritage Board.
That said, there are some very old sites with stone tools found in Malaysia, and their discovery also raises the question as to how old the sites in Singapore might be. In 2008, archaeologists in Lenggong Valley, Perak, uncovered tools that may date back to an astounding 1.83 million years. For reference, the oldest stone tool site in the world is in West Turkana, Kenya, which is about 3.3 million years old.8
It is generally thought that stone tools found in this region, and around the world, functioned in a similar fashion to modern-day axes and were used for wood working.9 In addition, we can see how stone tools are being used today to get a sense of how they might have been used in the past. Based on ethnographic literature, stone tools in Peninsular Malaysia are used in a variety of ways. Depending on their shape, stone tools could be used for root pounding, iron working, as whetstones to sharpen other tools, or as files for smoothening teeth.10 Rocks are used in fires (for example, to stabilise cooking pots or to contain the fire) or for roasting grain.
There is also evidence to show that rocks were used by Orang Asli groups, such as the Temuan and Semai, as an afterbirth procedure where the heated stones were wrapped in a specific kind of leaf and placed on the body of new mothers during the three days after giving birth. In addition, stones were also used for lighting fires, as projectiles, and even as medicine or for magical purposes.11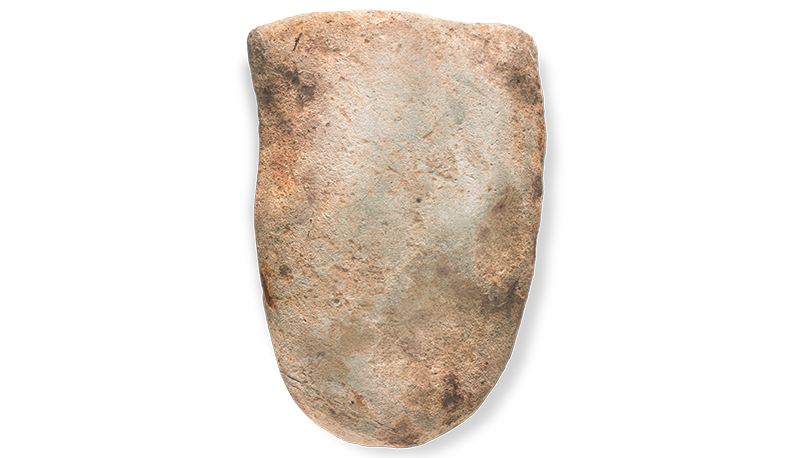 A stone axe from Tanjong Tajam on Pulau Ubin, Singapore (Accession no. A1734). Collection of the Asian Civilisations Museum.
Listen to the podcast episode "Stone Age in Singapore"
Stone Tools in Singapore and Johor
In Singapore, stone tools were found in Tanjong Karang (now Tuas) and on Pulau Ubin. H.N. Ridley (Henry Nicholas Ridley), the director of the Botanic Gardens, first reported the discovery of a round axe at Tanjong Karang in 1891.12 The precise location of the stone tool was not described in publications although Ridley's personal papers or museum records may provide further clues.13 Unfortunately, subsequent development work in the area means that the soil in the vicinity would have likely experienced major disturbances, making it less viable for further research.14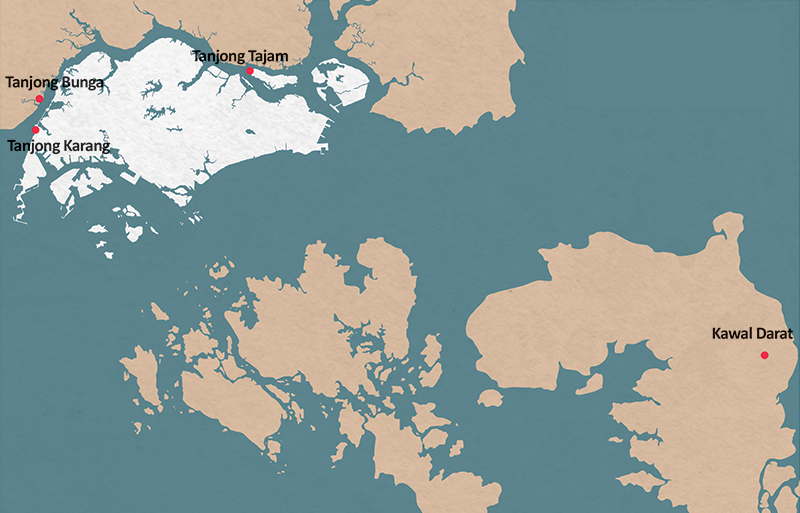 Locations where stone tools were found: Tanjong Karang (now Tuas) on the main island of Singapore, Tanjong Tajam on Pulau Ubin, Tanjong Bunga in Johor and Kawal Darat in Bintan.
One estimate of the stone artefact which Ridley found dates it to 4,000 BCE, but this was based on the type of stone tool rather than a radiocarbon date.15 As Southeast Asia is one of the regions where stone tools continued to be used by certain segments of the indigenous population even until quite recently, the round axe could also be much younger.16
In 1919, several stone implements of varying sizes were discovered in Johor's Tanjong Bunga by Engku Abdul Aziz bin Abdul Majid, the 6th Menteri Besar of Johor.17 The location of Tanjong Bunga across the straits in Johor was close enough to Tanjong Karang in Singapore that Roland St John Braddell – a prominent lawyer and scholar of Malayan history – suggested in a 1936 paper in the Journal of the Malayan Branch of the Royal Asiatic Society that there was a "stone-age portage" between Johor and Singapore, linking the sites of Tanjong Karang in Singapore and Tanjong Bunga in Johor in 1936.18 This theory has yet to be tested.
The artefacts at Tanjong Bunga were described as "lying on white clay within twenty feet of the bank", and Engku Abdul Aziz had suggested that the stone tools surfaced due to beach erosion resulting from the construction of the Causeway.19 However, this is highly unlikely as a 2004 study highlighted that the initial Causeway construction led to low tidal energy in the Johor Strait instead; this indicates that the beach erosion would have occurred prior to 1919.20
No dates were attributed to the Tanjong Bunga stone tools but P.V. van Stein Callenfels (Pieter Vincent van Stein Callenfels),21 a well-known prehistorian, had identified the two smaller stones as "neoliths", suggesting that they were of a later date associated with domesticated plants and the use of pottery.22
M.W.F. Tweedie (Michael Wilmer Forbes Tweedie), former director of the Raffles Museum in Singapore, who published a paper in 1953 on stone tools found in Malaya, similarly described the Tanjong Bunga stone tools as "neolithic blanks" – meaning that these could be further modified further into a specific tool form. He further described two of the artefacts as "round-axes" and added that one of the two artefacts was ground at one end. Tweedie's diagram of Collings' Tanjong Bunga excavation site further indicates that artefacts were also found in the lower layer of peat. The discovery of artefacts in these two layers suggests two different periods of site occupation.23

Neolithic type tools and flakes from Tanjong Bunga in Johor. Images reproduced from M.W.F. Tweedie, "The Stone Age in Malaya," Journal of the Malayan Branch of the Royal Asiatic Society 26, no. 2 (162) (October 1953): plate 10. (From JSTOR via NLB's eResources website).
H.D. Collings (Hubert Dennis Collings), who later became the Curator of Anthropology at the Raffles Museum, visited Tanjong Bunga in 1934 and 1935, and upon finding more implements, conducted an excavation at the site in 1938. This was the first archaeological excavation undertaken at the southern end of the Malay Peninsula. At Tanjong Bunga, Collings found more "small ground neolithic axes, flakes, pieces of haematite, resin and quartz microliths" approximately 90 cm below the surface.24

Side profile of the excavation site at Tanjong Bunga in Johor from a drawing by Hubert Dennis Collings. Image reproduced from M.W.F. Tweedie, "The Stone Age in Malaya," Journal of the Malayan Branch of the Royal Asiatic Society 26, no. 2 (162) (October 1953): 85. (From JSTOR via NLB's eResources website).
The excavated artefacts at the site were described as being found in a stratigraphic layer between two layers of mangrove peat, and it was suggested that this soil layer might have been formed "during a slight temporary advance of the sea".
Although there was no method of dating sea level changes back then, one recent study for Singapore suggested that the sea level rose to a maximum at around 3,150 BCE before falling to present levels.25 This new data might present the best educated guess for when the site was in use until further environmental history studies can be made near or at Tanjong Bunga itself.
Other surface finds reported by Collings consisted of a round axe, four small neoliths and a quadrangular (four-sided) neolithic adze (a versatile cutting tool with an angled hoe-like blade). Given that these were surface finds, however, they may not have been from the same occupation period as the excavated finds.26
A 2018 review of the Tanjong Bunga stone tools asserted that the site bore evidence of a prehistoric adaptation to a mangrove environment, which is relatively rare for Peninsular Malaysia, as mangroves are found only in certain parts of the Peninsula.27 The study also reaffirmed that the round axes at Tanjong Bunga were unlike those found in other sites in Peninsular Malaysia and were closer to those found in Island Southeast Asia. Similar round axes have been reported in Japan, India, Myanmar, Manchuria, Korea, Taiwan, North Vietnam, the Philippines, Melanesia and Micronesia. In Indonesia, the majority of the finds were in the eastern end of the archipelago although some were also reported at a few sites in Sumatra.28
On paper, the wide distribution would suggest that these stone tools were not geographically restricted. However, a visual comparison of the "round axes" depicted in published photographs from Singapore and Johor, and those suggested for Indonesia, indicates that there are quite a few differences. A more advanced technical study that investigates the life cycle of these artefacts may be more useful than the previous descriptive method of analysing these tools.29
In addition to the Tanjong Bunga and Tanjong Karang areas, stone tools have also been found on Pulau Ubin. P.D.R. Williams-Hunt, Advisor on Aborigines for the Federation of Malaya,30 reported the existence of several stone artefacts (more round axes and stone flakes) at a site called Tanjong Tajam on the western end of Pulau Ubin, and the find was made public in October 1949.31 Williams-Hunt and Collings conducted an archaeological excavation at Tanjong Tajam in November 1949, but it was reported in 1951 that nothing of interest was found.32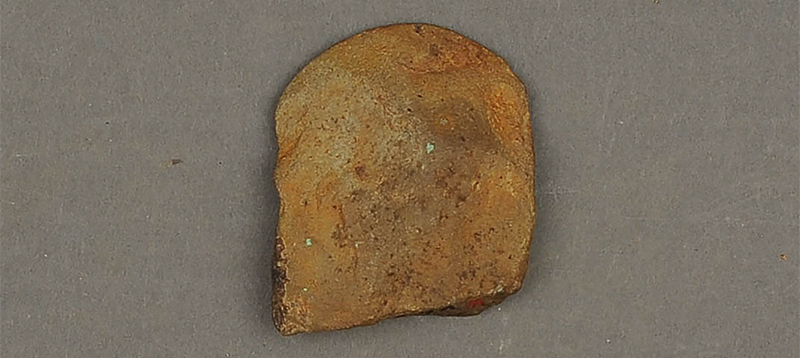 Artefact from Tanjong Tajam on Pulau Ubin, Singapore (Accession no. 1280). Collection of the National Museum of Singapore, National Heritage Board.
In 2017, archaeologist David Clinnick and Sharon Lim, an assistant curator at the National Museum of Singapore, visited the Tanjong Tajam site. Although Clinnick reported finding a possible stone tool, a peer-reviewed article on this research has yet to be published and this finding cannot be confirmed.33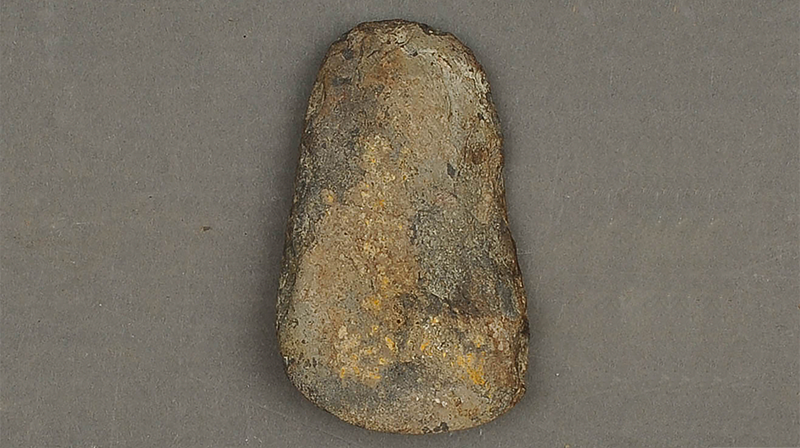 A stone axe from Tanjong Tajam on Pulau Ubin, Singapore (Accession no. 0533). Collection of the National Museum of Singapore, National Heritage Board.
Stone Tools in Bintan
Stone tools were also reported in 2012 and 2014 at the Kawal Darat shell midden on the nearby island of Bintan. Shell middens are man-made heaps where the primary component are shell remains, the result of marine resource exploitation during its site-use period.34 This particular shell midden is known as Bukit Kerang Kawal Darat in Indonesian (BKKD).35 The site consists of a group of three shell mounds near the Kawal River.36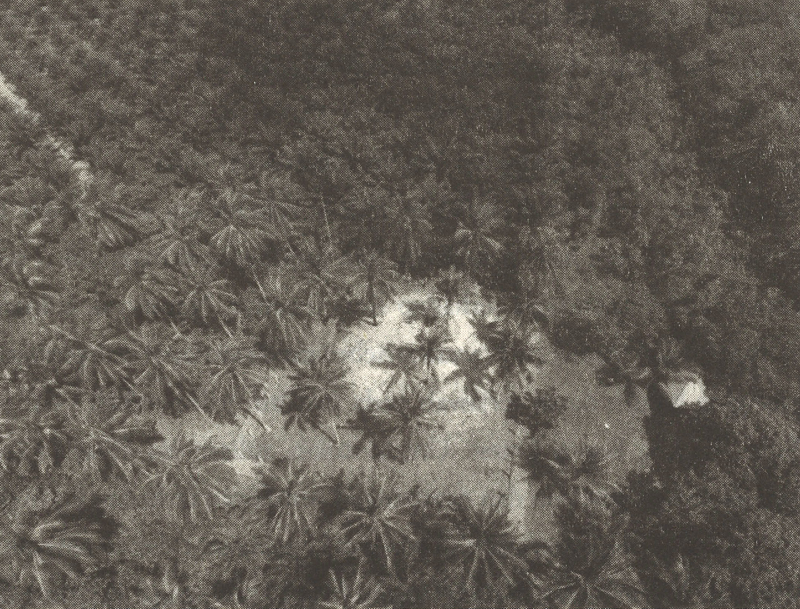 Aerial view of the Kawal Darat shell midden in Bintan. Image reproduced from Taufiqurrahman Setiawan, "Melihat Kembali nilai penting Bukit Kerang Kawal Darat," in Daratan dan Kepulauan Riau: Dalam Catatan Arkeologi dan Sejarah ed. Sofwan Noerwidi (Jakarta: PT. Pustaka Obor Indonesia), 87. (From National Library, Singapore, call no. RSEA 959.81 DAR).
An initial radiocarbon date from one of the shell middens suggested that it was in use between the 5th and 10th centuries, making it relatively young. In comparison, the Pangkalan shell midden in Aceh in North Sumatra was utilised between 10,890 BCE and 1,780 BCE.37 The BKKD also existed much later than the Guar Kepah shell midden site in Penang, which dates back to between 3,800 BCE and 3,260 BCE.38
In 2012, an artefact made of andesite, a fine-grained igneous rock, was reported and found at BKKD in the same layer as plain earthenware fragments and Tridacna shells (Tridacna are a type of large saltwater clam). In 2014, artefacts made from quartzite and bauxite, as well as modified mollusc shells and bones, were reported.39
More significantly, part of a human jaw and calf bone were discovered on the eastern side of the shell midden, suggesting that there was a more complex use for the site rather than simply a depository for food waste.40 The researchers stated that the quartzite and bauxite artefacts were likely to be locally sourced and that the site was used as a food processing area, among other things.41
The BKKD site gives some indication as to how stone tools continued to be in use in the area until much later. This, however, raises the important question: were the tools found in Singapore from the Neolithic period, or much later? Another question that the BKKD raises is the identity of the people who might have made these tools. Although no human remains were found in association with the stone tools unearthed in Singapore and Johor, DNA analysis of the remains from the Bintan site may provide clues as to whether the stone tools might be traced to the Orang Laut (sea people) or to an even older and unknown prehistoric community.42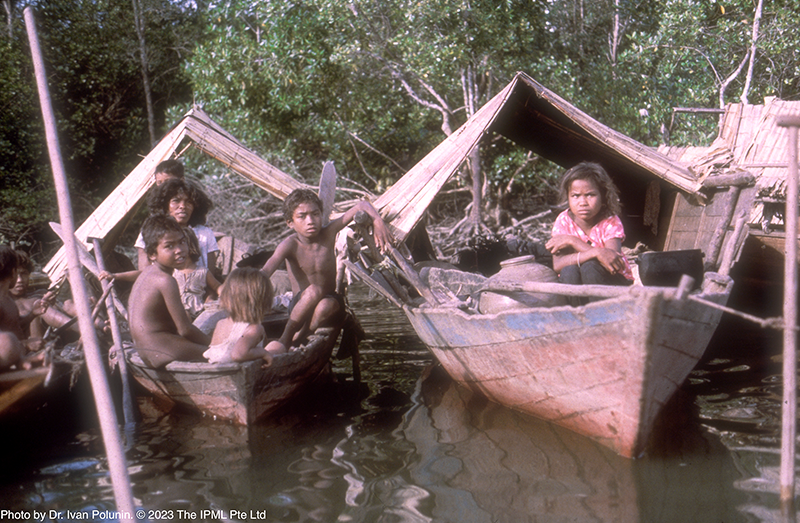 The Orang Seletar, one of the sub-groups of the Orang Laut, in Singapore, 1950s. DNA analysis of the shell midden site in Bintan may provide clues as to whether the stone tools might be traced to the Orang Laut (sea nomads) or to an even older and unknown prehistoric community. Dr Ivan Polunin Collection, courtesy of National Archives of Singapore.
Stone Tools in Southeast Asia
The stone tools found in and around Singapore need to be understood within the wider context of the development of stone tools in Southeast Asia. The evolution of stone tools in this region differs from that in Europe.43
Southeast Asia reports a much lower incidence of microliths (small flaked stone tools measuring approximately 1 to 4 cm in length)44 and Acheulean handaxes,45 although this may be due to a paucity of data from open-air sites.46 (The Acheulean is a tradition of toolmaking that dates back to approximately 100,000 to 1.7 million years.)
Some researchers have argued that foragers and farmers in tropical environments like Southeast Asia would not have to rely so much on winter survival strategies compared to hunter-gatherers in temperate areas in capturing, processing and storing food leading up to winter. As such, the purpose of stone technologies may have been to make other tools that did not manage to survive the archaeological record.47
To explain the paucity of stone tools in this region, a "bamboo hypothesis" has been proposed. This theory suggests that the early inhabitants of the region relied on alternative materials like bamboo, wood or shell for more sophisticated tools. As these are made of perishable material or are thought of as being naturally occurring objects, they may not be as visible in the archaeological record.48
In the Thai-Malay peninsula, Pleistocene stone tools consisted of flaked cobbles (cobble-sized stone tools) as well as single and multi-platform cores.49 (The Pleistocene era lasted from 2.6 million years ago to 9,700 BCE.)50 The stone tool technology then transitioned to the Hoabinhian industry, which is characterised by Sumatraliths and flaked artefacts. Sumatrialiths are unifacially flaked cobble artefacts; this meant that enough material was removed from the core so that a single bevel formed the working edge of the tool. Flaked artefacts include objects such as points and scrapers, and these were made from the detached bits of stone from a core.51
The sites in Thailand with these types of artefacts date from the end of the Pleistocene to the mid-Holocene period (24,050 BCE to 1,200 CE).52 In Malaysia, a narrower timespan of approximately 16,000 BCE to 4,000 BCE is given.53
The stone tool technology then transitioned into highly polished stone adzes, axes and chisels, which some associate with the advent of pottery and agriculture (the Neolithic period), which for Peninsular Malaysia is said to be from approximately 4,000 BCE to 3,000 BCE.54
Further Research
There are possibilities for further research on the stone tools discovered in Singapore, particularly in terms of the excavation notes (if any are to be found) and the research methods. Given that radiometric dating was not conducted for the sites with the artefacts, it cannot be determined whether the tools were used or made much later for their healing and magical properties. (There is ethnographic evidence to suggest that stone tools may have had a secondary use as thunderstones associated with magic rituals [Indonesian/Malay: batu halilintar or batu lintar] and this may be part of a larger global phenomenon.55)
All the stone tool sites described earlier were either found along coastal or in brackish (mangrove) waters in Singapore. This raises the question: was there inland prehistoric activity for Singapore? Rivers would have been the general travel marker during early exploratory periods and tracing the old river courses may reveal more important sites. Should anyone stumble upon such a site in Singapore, do leave the site untouched, mark its GPS location and alert the National Heritage Board immediately as the context of the find is likely to be as important as the find itself. Keep your eyes peeled: you never know what you might find.
Stone Tools By Eras56
(Note: Present = 1950)
Holocene (11,800 years ago to the present; Post-Ice Age)
Example:
Jenderam, Langsat Valley, Selangor, Malaysia: 3,650 years ago57
Pleistocene (2,588,000 to 11,800 years ago; the most recent ice Age)
Examples:
Pliocene (5,333,000 to 2,588,000 years ago)
Example:
Current oldest known stone tool site: Lomekwi 3, West Turkana, Kenya: 3.3 million years ago63

Foo Shu Tieng
is an Associate Librarian with the National Library, Singapore, and works with the Singapore and Southeast Asia collections. Her responsibilities include collection management, content development as well as providing reference and research services. Her publications on ancient money, shell middens and salt can be found on ResearchGate.
NOTES